Make Your Sustainable Yard Functional
Posted on December 28 2022, By: Daryl Lindsey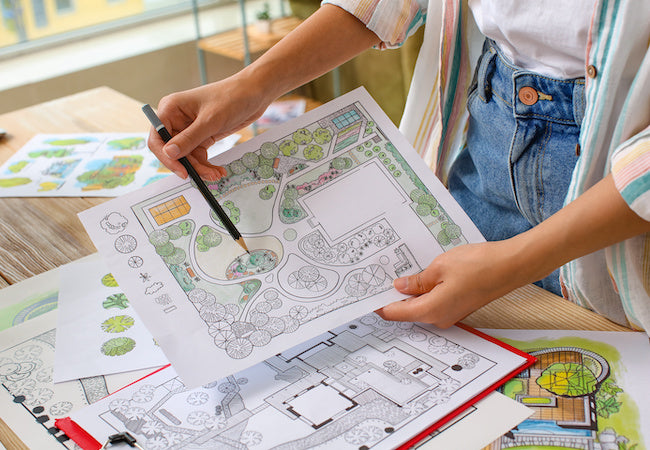 Your yard is an extension of your home, so why doesn't it feel like it? For many (including myself, for many years) the yard isn't a place to spend time and enjoy yourself — it's just another weekend chore. Making your yard a space you'll actually use, the way your lifestyle begs you to use it, is my primary goal as a landscape designer.
For me, most of my lawn was wasted space when I moved into my home. I did need some green space for my dog to wander, but she isn't a high energy pup and has a strong preference for one corner of the yard, anyway. 
The other half of my back yard, my side yards, and my front yard were all lawn when we moved in and no one in my family (even my dog) spent any time on them––except to spend one dreaded, hot, itchy day per pushing a lawnmower back and forth across the area. Not exactly my idea of fun.
So I set out to convert these wasted spaces into areas where I would actually enjoy spending time: A dining area, a fire pit area, a large outdoor garden and (two!) potting sheds all made their way into my backyard over the course of two summers. Just like designing the floor plan of a house, these areas of your yard can and should be considered "rooms."
Here's how you can get started rethinking and redesigning your yard to be more functional.
Step 1: Analyze Your Yard's Flow
Part of a truly sustainable landscape design is to evaluate the ways you currently use your yard and how that supports or detracts from your goals. We call this process flow analysis: We document the ways you move through your space. What doors do you use the most? What are the most crucial parts of your yard to have easy and convenient access? Are there spots within your yard that feel like wasted space––spaces that require more work to maintain than they are worth? 
Step 2: Analyze Your Yard's Light
Getting a good idea of your yard's year-round access to light will help you make easy decisions about what plants can exist where—and where hardscape should exist in its place. The SunSeeker mobile app is a pretty clear-cut way to get a sense of your yard's sunlight (you can open your phone's camera and use VR to track the sun's pathway. I also like to use SunCalc for a more overhead view of the way sunlight travels across my property.

Even after using these apps, you will likely need to get outside to make visual observations of your yard's light. That means taking photos every 1-2 hours from as many angles as possible, being sure to timestamp and date the photos. Your summer sun and winter sun are vastly different, so don't make decisions based on just one season!

Here's what I would recommend placing in different areas of your yard depending on its light access:

FULL SHADE: Sheds/storage areas, dining areas, social gathering areas, quiet little nooks for reading, resting, or your morning coffee.

PART SHADE/SUN: All of the above, with the addition of shade-friendly plantings (native when possible––but be sure to check their water needs to make sure you can accommodate)

4-6 HOURS OF SUN: Most of the above (make sure your plants can withstand some light and heat), with the addition of shade-tolerant food producing plants (Brassicas, Alliums, Umbellifers)
FULL SUN WITH POSSIBLE IRRIGATION: Annual vegetables, fruit trees, native flowers and shrubs, and so on.

FULL SUN/HIGH HEAT WITH LIMITED IRRIGATION: Drought-tolerant, heat-tolerant native plants. Include a drought-tolerant ground cover to cover the soil and allow for moisture retention.
Step 3: Analyze Your Ideal Day
What would make you want to venture out into your yard on a daily basis? What would make visiting your yard feel like a joy? We should intentionally plan and design spaces that make us excited to use them! As you design your dream space, remember that it is just that: your dream space. It should reflect where you live and how you live.

If you need some help and suggestions with your plant suggestions or layout design, I offer virtual consultations and design coaching as well as full-service designs. I would love to talk to you about your yard!
YardFarmer.Co is dedicated to transforming wasteful and wasted outdoor spaces into sustainable landscapes that require way less work, way less water, support local ecosystems, and better serve your family and your lifestyle. Your yard should take care of you the way you care for it! Subscribe to The YardFarmer Dispatch for tips on designing and installing sustainable systems in your yard!